Blue Zones Project: Live Longer, Better West Hawaii Kick Off Celebration
Date:
Saturday, August 26, 2017 1:30 pm - 6:00 pm
Duration:
4 Hours 30 Minutes
Live Longer, Better West Hawaii! Kickoff Celebration
Saturday, August 26
1:30 – 5 p.m.
Kona Commons, Old Sports Authority
74-5450 Makala Blvd.
Kailua-Kona, HI 96740
Grab your friends, family, and neighbors and join us for this free, community-wide event to kick off Blue Zones Project® in West Hawaii. Discover how you can get involved in transforming West Hawaii into a place where healthy choices are the easiest to make. You'll learn how following Blue Zones® principles can lead to a longer, better life.
Register online here.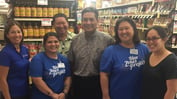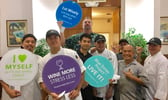 DAN BUETTNER: National Geographic Explorer and New York Times best-selling author of The Blue Zones and The Blue Zones Solution.
Learn more about Dan here.

• Games and Activities •
• Keiki Zone •
• Cooking Demonstrations •
• Local Performances •
• Healthy Ono Food •
• Downshift Lounge •
Photo Credit: Queen Liliuokalani Long Distance Canoe Races and Charla Photography